Dell R730 2U Rackmount Server 16 Core E5-2630 v3 2.4GHz, 128GB, 8 2.5" Bay Refurbished
Dell R730 2U Rackmount Server 16 Core E5-2630 v3 2.4GHz, 128GB, 8 2.5" Bay Refurbished
Dell R730 2U Rackmount Server 
2 x E5-2630 v3 2.4GHz 8 Cores /16 Threads 20MB Cache 
128GB DDR4 Ram
8 2.5" Disk bays

2 750W Power supplies
Perc H730 1GB NV Cache Raid Controller
Dell 4 port Gigabit Ethernet
iDARC 8 Remote management controller




Tackle almost any workload
The incredible versatility of the PowerEdge R730 server delivers outstanding functionality in just 2U of rack space. With the combination of powerful processors, large memory, fast storage options and GPU accelerator support, the R730 performs exceptionally well in a number of demanding environments.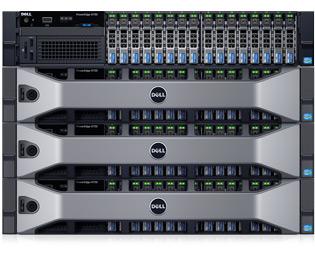 Virtualization and cloud applications
With the Intel® Xeon® processor E5-2600 v3 product family and up to 24 DIMMs of DDR4 RAM, the R730 has the processing cycles and threads and large memory footprint necessary to deliver more, larger and higher-performing virtual machines for data centers and cloud platforms.

Highly scalable storage, with up to 8 x 12Gb SAS drives and the high-performance PERC H730, can greatly accelerate data access for your virtualized environment. In addition, the R730 can take advantage of optional SanDisk® DAS Cache application acceleration technology for even faster data access.